The History of Jordantown Wesleyan Church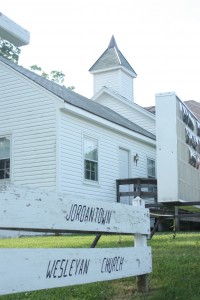 Jordantown Wesleyan Church came about through the interest of the Rev. L.R. Higgins, a local preacher in the Second Wesleyan Methodist Church of Roanoke (later called Fallon Park Wesleyan, and now Parkway Wesleyan Church). In early Spring of 1936 the first services were held on the grounds of Jordantown School. Many of these service were held outside beneath the trees, with a small portable organ perched on a tree stump.
On May 28, 1938  the church was officially organized by the Rev. John R Clement with only nine charter members. Rev. L. R. Higgins was installed as the first pastor of the church, which resided in the old Jordantown School building.
Over the years the church grew in many ways, including the purchase of an adjoining lot to the church property on which a parsonage was built. In 1958 the building underwent construction to add Sunday school classrooms onto the existing sanctuary.
In the 1990's, under the leadership of Rev. Robert "Bob" Phaup the church began to consider building a new facility, and in 1996 the church was approved for a short term loan for the purchase of property and a parsonage off of Jordantown Road. The small congregation was able to pay the loan in full by January 2001-- quite a feat!
In 2005 the vision of a new facility was renewed by Rev. Greg Criswell, who felt led to see the building program through to its completion.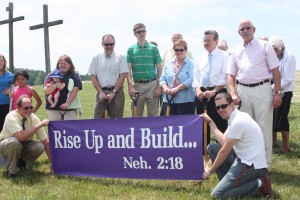 Over the next five years the church barreled through the building process, breaking ground on the new building on June 6th, 2010.
On February 2. 2011, as the church building was in the process of going up, Jordantown Wesleyan church suffered the loss of our much-loved pastor, Rev. Greg Criswell, who was called home to be with the Lord.
The church, however, persevered through this trial and was able to open the doors to the new building on October 2, 2011, holding an official dedication service on November 13, 2011.
Since then the church has grown so much in attendance that we had to build a new parking lot space! In April of 2012 Jordantown Wesleyan was pleased to elect Dr. James Keaton as full-time pastor; Dr. Keaton had been filling in as interim pastor since the passing of Pastor Greg.
September 2, 2012 the church welcomed Rev, Matt Reynolds into our midst as Assistant Pastor.
June 28, 2015 Jordantown Wesleyan Church bid goodbye to Pastor Keaton as he headed back into retirement. The church has elected former assistant pastor, Rev. Matt Reynolds to be our full-time pastor, his first Sunday being July 5th, 2015. We can't wait to see what new challenges Pastor Matt has in store for our church!
Former Pastors and Their Dates of Service:
Rev. L.R. Higgins                          1936-1947
Rev. S.D. Hill                                  1947-1948
Rev. P.S. Shell                                1948-1949
Rev. John R. Powell                      1949-1950
Rev. O.B. Cook                                1950-1952
Rev. William M. Phillippe            1952-1957
Rev. J.T. Mostiler                           1957-1959
Rev. Edward E. Shepherd, Sr.    1959-1963
Rev. James A Matherly                1963-1964
Rev. S. Earl Reynolds                  1964-1970
Rev. Earl P. Fisher                        1970-1974
Rev. Sam Gillenwater                  1974-1975
Rev. George Puffenbarger          1975
Rev. Roger Belton                         1975-1977
Rev. Robert "Bob" W. Phaup      1978-2000
Rev. David L. Walters                   2000-2005
Rev. Gregory A. Criswell              2005-2011
Dr. James B. Keaton, Sr.             2011- 2015
Rev. Matt Reynolds                      2015-Present